Campus-Delivery-Service with MyBib eDoc®
MyBib eDoc® controls all 'campus orders ", i.e. orders of university members from the stock of the University Library (OPAC); from order entry to the scanning process up to delivery and billing.
MyBib eDoc® takes the organizational structures into account, defines delivery instances and stocks and supports the workflow with an interface to automatically check the availability with the ECB.
With MyBib eDoc® the staff of the campus delivery service is always able to check the current status of an order, which can be controlled individually as required. The patron is also informed about the respective processing status of their order.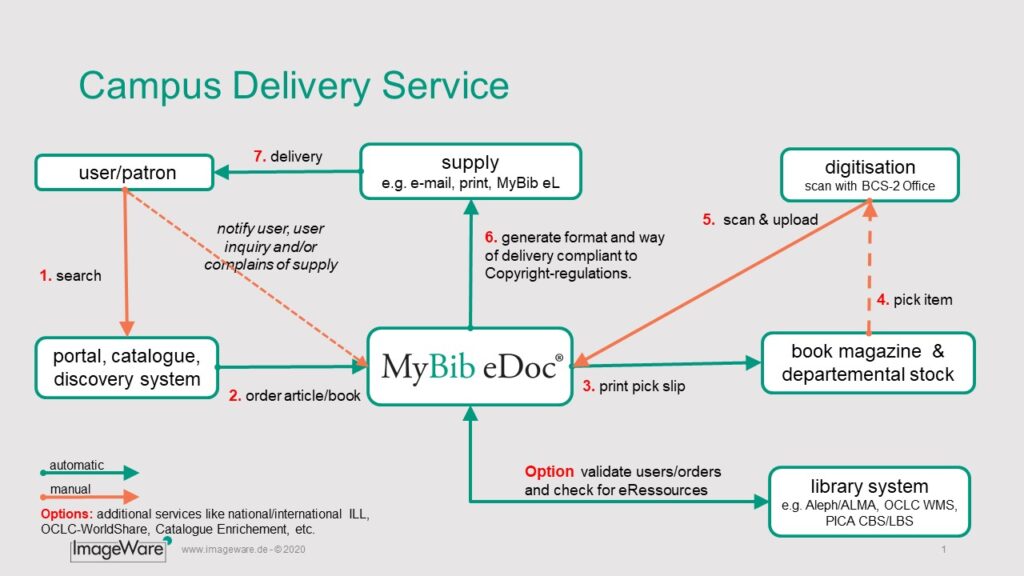 Success Story/User Report
Excellence and initiativ… Munich Technical University's library sets standards
Further Applications
LMU: Ludwig-Maximilians-Universität München
Here you can find an e-tutorial of the Ludwig-Maximilians-University Munich with our system, which was kindly provided to us.
https://videoonline.edu.lmu.de/de/tutorials/ub/der-campuslieferdienst
Among other University Libraries which rely on MyBib eDoc for their Document Delivery on the Campus are RWTH Aachen, der Staats- und Universitätsbibliothek Hamburg (https://www.sub.uni-hamburg.de/service/leihen-liefern/fernleihe-dokumentlieferung/campuslieferdienst.html) and TIB Hannover (Library of the year 2020).