C-3 Plus Freeform-Suite
is an easy to use data acquisition tool. It is particularly useful for indexing non-recurring tables of contents or those with difficult recognition patterns. The marking of the article data (author, title, page reference) is done manually.
The C-3 Plus FreeformSuite, which is based on the BCS-2 software, generates compound-compatible data formats, so that the data can be transferred directly into the respective compound databases.
Workflow of the software package BCS-2/C-3 Plus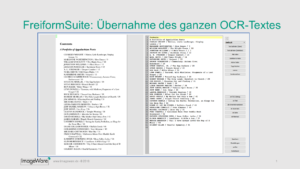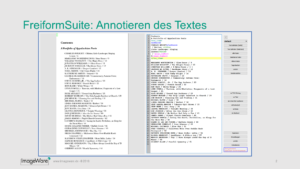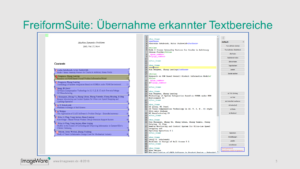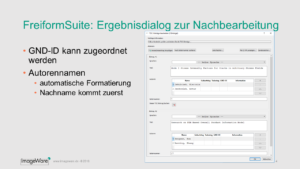 Features
Processing of multi-column and tabular tables of contents
free editability of the OCR result
Recognition of multilingual tables of contents
realized as Unicode application (UTF-16), support of Cyrillic, Greek and Slavic characters
automatic naming and page interval calculation
Enrichment of metadata via SRU query (e.g. compound and GND data) or integration of CSV files (e.g. journal title lists)
Generation of compound-compatible data formats (MARC 21.XML, PICA+, PICA3, C3.XML)
via BCS-2 as a single-user solution
available as a multi-user solution for distributed/cooperative work via additional connection to MyBib eDoc
Basic connection to BCS-2® Office or Professional
BCS-2 consistent and application-specific user interface, so that users recognize a familiar working environment
Scanner-independent digitization (direct/native connection to different scanners, alternatively connection via Twain standard)
Import possibility of external scans/digitized material
Use of the OCR integrated in BCS-2 (Tesseract, alternatively ABBYY)
Extended connection to MyBib eDoc
For cooperative work, C-3 Plus can be used as a multi-user solution in conjunction with the workflow management system MyBib eDoc.
Advantages:

automated workflow control
flexible business processes in which different FIDs and media types (magazines vs. collections/congress volumes) can be integrated
Dashboard reporting
browser-based quality assurance

MyBib eDoc/C-3 Plus Workflow

Order management in MyBib eDoc
Processing in BCS-2 and C-3 Plus
Delivery/provision via MyBib eDoc
Options, expansion possibilities
Upgrade zur C-3 Plus RegelSuite für die regelbasierten Formalerschließung von Aufsätzen aus Periodika, Kongressbänden und Monografien
Note for CC-Tool users
Simple CC-Tool replacement possible!
User manuals and technical descriptions
On our documentation website you will find manuals and additional documentation for our software solutions. These structured reference works make it easier for you to use the software, provide answers to questions and optimize the application in your company.
This link leads to the documentation website.
Specials: C3.XML, tutorials, short manuals …