MyBib eDoc® is a web-based workflow management system for electronic document delivery and interlibrary loan in a national and international context.
National Document Delivery and Interlibrary Loan (ILL) Header text
MyBib eDoc® controls on the basis of the respective local system the workflows of
electronic document delivery
copy delivery
books taken out on loan
The multi-client capable MyBib eDoc® server at the center allows libraries to process multiple delivery services via one platform, such as
subito
OCLC ILL WorldShare (also for national deliveries)
particular delivery services
search systems for searching in the WebOPAC and the reconciliation of licenses
Success Stories/User Reports
International Document Delivery
For a lot of libraries supplying their users with loans and copies from abroad is an essential part of their service offer. MyBib eDoc® centrally assumes the complete workflow control of the international loan and copy delivery – from the request to the processing and delivery through to billing.
Increasing the efficiency
A time- and cost-saving workflow is offered with the connection of MyBib eDoc® to OCLC World Share in combination with the presentation component MyBib eL®. This linkage allows a copyright-compliant provision / delivery of digital copies. Not only the quality improvement in comparison to the previously used fax delivery and the saving of postage costs are on the "plus side", but also the rapid handling and automated billing.
Success Stories/User Reports
Campus-Delivery-Service
MyBib eDoc® controls all 'campus orders ", ie orders of university members from the stock of the University Library (OPAC); from order entry to the scanning process up to delivery and billing.
MyBib eDoc® takes the organizational structures into account, defines delivery instances and stocks and supports the workflow with an interface to automatically check the availability with the ECB.
With MyBib eDoc® the staff of the campus delivery service is always able to check the current status of an order, which can be controlled individually as required. The patron is also informed about the respective processing status of their order.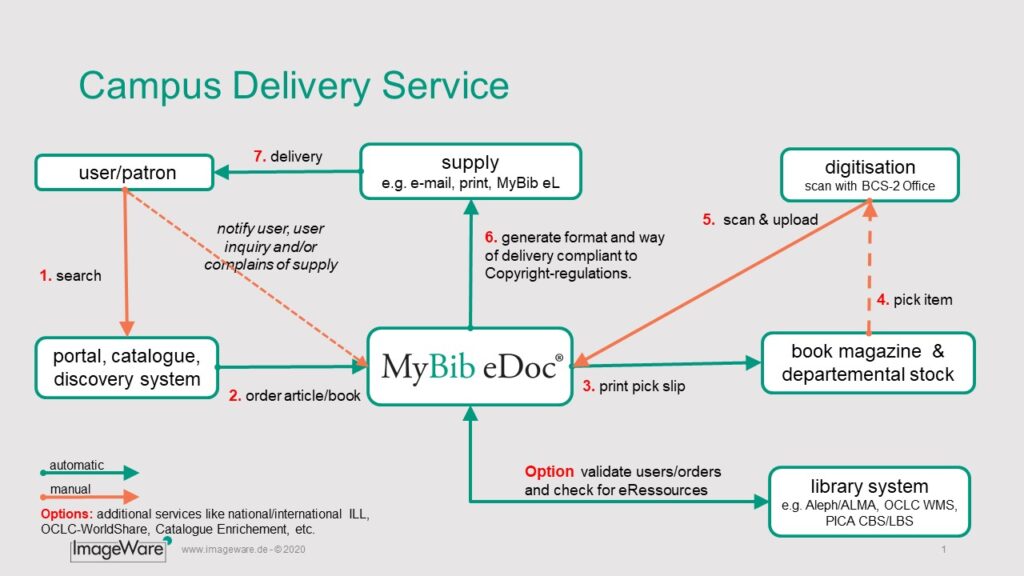 Success Story/User Report
Excellence and initiativ… Munich Technical University's library sets standards
Further Applications
LMU: Ludwig-Maximilians-Universität München
Here you can find an e-tutorial of the Ludwig-Maximilians-University Munich with our system, which was kindly provided to us.
https://videoonline.edu.lmu.de/de/tutorials/ub/der-campuslieferdienst