2. Activating the ImageSuite

add chapter
Access the ImageSuite via the menu Image > ImageSuite. By selecting one of the options: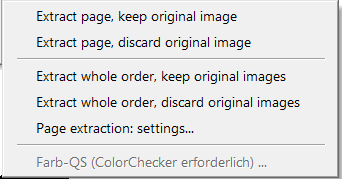 extract page, keep original image
extract page, discard original image
extract whole order, keep original images
extract whole order, discard original images
the extraction is activated and directly performed for the image or the entire order. Via the menu item
you can open the dialog window in which you can select the filter, fill color and search depth.