The integration of the Microbox single-head scanning systems into BCS-2 Office and Professional (BCS-2 Plugin for Microbox) is based on the Microbox K71 SDK, Version 1.34. The native connection via the SDK allows direct control of the scanner via BCS-2 and the use of camera-specific features. With the plugin, additional scanner functions such as foot switches and buttons can be used.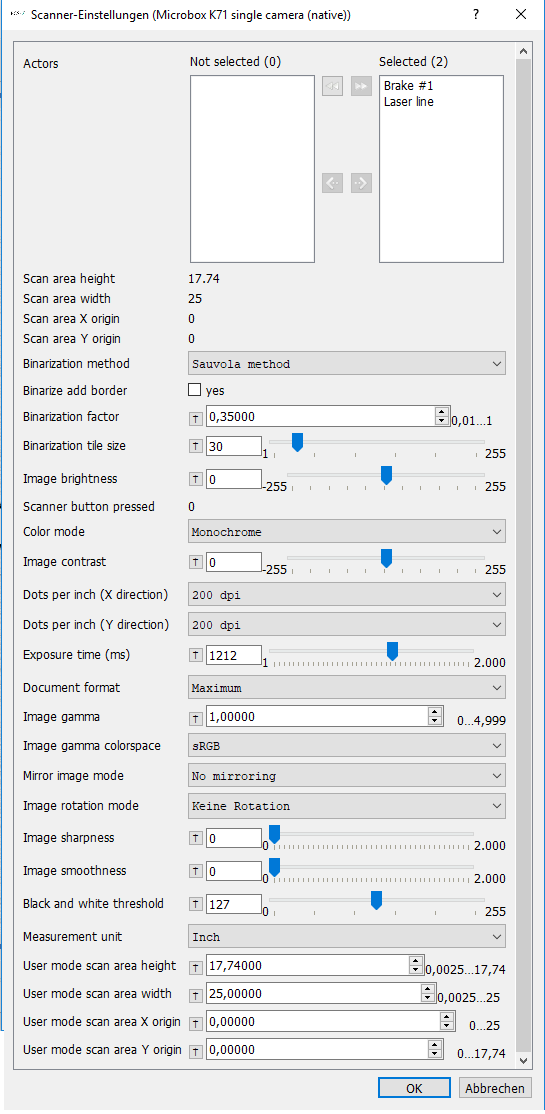 Binarization: For the creation of black and white images, two binarization methods are available to the user, Sauvola (also known as Adaptive Gaussian Thresholding), an adaptive method, and simple binarization.
There are two parameters for Sauvola: "radius" (better known as "tile size") and factor:
For Factor, the recommended Rage is 0.2 – 0.5 with default 0.35.
For Radius it is 30.
The parameters can be set using the sliders below the drop-down list, which is used to select the binarization method.
  To ensure that the image format of the black/white images does not become smaller or larger than the grayscale or color images by conversion, the check mark for Binarize add border must be set.
The following functions are supported by BCS-2 Office and Professional:
Trigger scan via

Foot switch
Release buttons
directly into BCS-2

Color depth conversion (conversion from color to grayscale or black and white)
Format selection (format calculation)
Activate scan counter
Use of the predefined exposure and glass plate settings depending on the model
The following camera functions can be customized via BCS-2 Office and Professional: A change of the default values is usually not necessary, as the scanner is set up with its optimal values by the manufacturer.
Actuators
Exposure time (exposure)
black/white threshold
Rotation
Mirroring
The following functions and settings are provided in the camera and used by BCS-2 Office and Professional:
Filter Median, Filter Sharpen, Filter Sharpen LCE-USM, Filter Smoothing
Gamma correction
Mirroring
Resolution (300 dpi or 400 dpi)
Rotate
Scaling
Brightness and contrast are predefined (colour authenticity)
Gamma calibration
Selecting the correct scan transfer mode'.
Setting USB speed
The following functions are not performed by BCS-2 Office and Proefssional:
Book cradles control (stand-alone system)
Glass panel control (autarkic system)
Selection of resolution: The dpi set in the camera is taken over by BCS-2® and is not manipulated.