In order to activate barcode recognition, barcode indices must first be defined on the Indices tab of the BCS-2® Configurator. Additionally, in the Index query area, you can set whether the barcode should be read automatically after the first scan.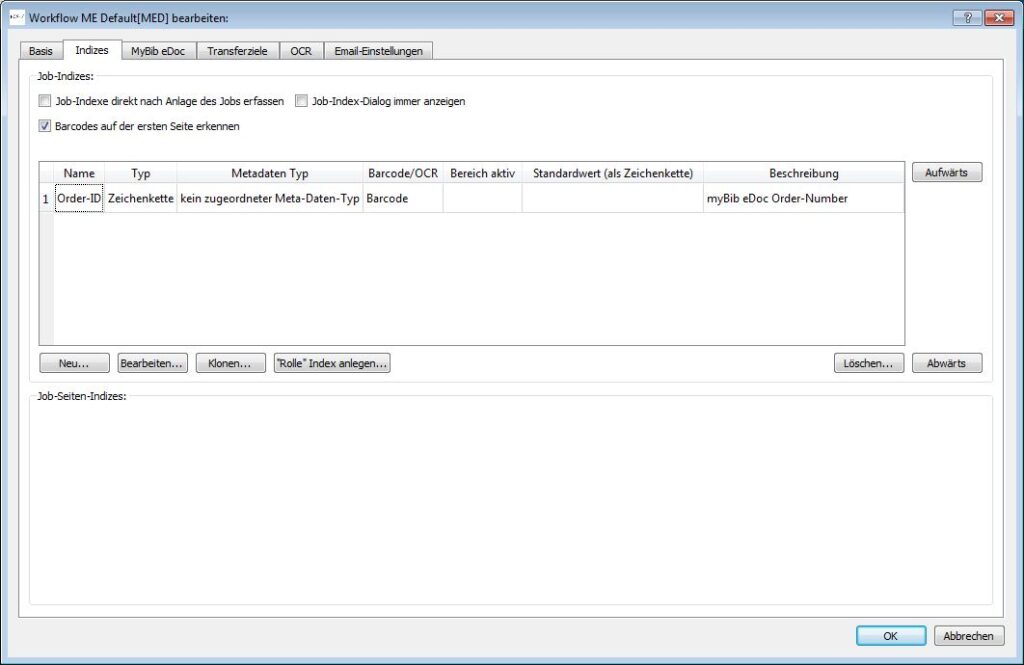 In the list view on the left side of the tab, the defined indices are displayed in the same order as they will be displayed later in the application. For each index the name, type, metadata type, barcode/OCR, default value and description are listed.
Above the list the index query can be set. Select Detect barcodes on first page if the barcode should be read automatically after the first scan and set as index value.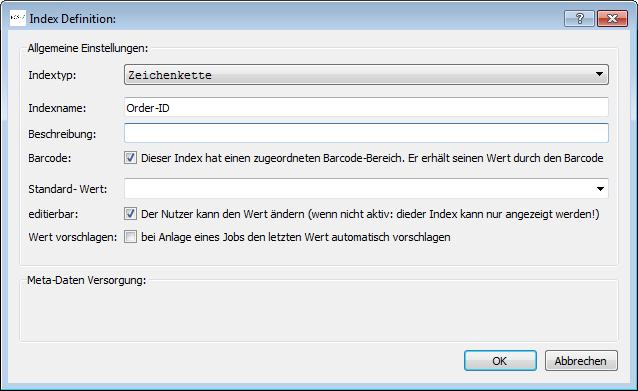 The button New… or Edit to the right of the index list opens the Index Definition Dialog where the Job Index can be defined and edited.
The following settings must be selected for a barcode index:
Index Type: The index type determines the type of index field that is made available to the user via the Edit Job Index dialog in the BCS-2® Office application. In connection with barcode recognition, the type String (i.e. any character string can be entered as index) should be selected.
Barcode: This index has an assigned barcode area. It receives its value from a bar code:  This item must be activated in order to use barcode recognition and assignment in the application.  In combination with the index query Detect barcode on first page, the index is automatically filled after the first scan.
Editable: The user can change the value: The index can be changed by the user. If this option is not activated, the index is only displayed.
Please leave the dialog and later the Configurator via OK to save the adjustments made.